I like to monitor my health. I want to know what is going on with my body.
Even though my doctor says that I no longer have diabetes, I still like to monitor my blood sugar. I will probably do that for a year more or so, just to be sure that nothing unexpected happens.
I also monitor my body composition statistics. Things like Weight, Muscle Mass, Fat Percentage, Water Percentage and such to see what is going on. Even if my weight remains stagnant, but the fat percentage is down, that is good news. Like right now, I am gaining a lot of muscle mass almost every day (I have been doing some weightlifting and other training), so my muscle mass is increasing every day, but my fat percentage is going down. That means that some days I gain a little weight, but it is actually good because the fat is decreasing, muscle is increasing. Nothing wrong with that.
Another thing that I try to monitor regularly is my blood pressure. I have a digital blood pressure cuff that goes around my wrist. The one that I have is made by Omron. You put it on, push a button and then you are supposed to hold your hand at the same level as your heart. When your hand is in the proper place a blue light comes on and the cuff starts pumping up.
But…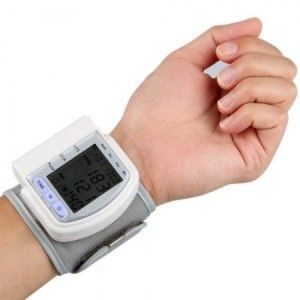 After I started fasting for a couple of months, the blood pressure cuff has not been working properly. I cannot get my wrist into the proper position (the blue light does not come on) anywhere near my heart. However, if I hold my hand down near my waist, with my arm down, then the blue light comes on and it starts pumping.
To be honest, I really don't care where my hand is as long as the blue light comes on AND the reading is accurate.
Problem is, that I don't feel the reading is accurate. The other day it gave me a reading of 166/101, which is way high, and my blood pressure is generally low. On that day when I got the super high reading, I went to my doctor's office to have my BP checked, and it was normal. 112/70. This was just 30 minutes after the super high reading.
I really feel that it is the meter, and not being able to get the blue light when I properly place my hand near my heart.
Seems related to Fasting
Like I said, this inability to properly use the blood pressure cuff started after I had been fasting. One time during my fasting, I went about a week with no fasting, and by the end of the time, the blood pressure cuff was again working normally. But, when I started fasting again, it went back to misbehaving.
Any ideas?
Does anybody have any ideas as to what is going on? I have a friend who is a doctor in the US, and I asked him about this a week or so ago. He could not really explain any reason why this would happen, but he did say that holding your arm down would result in a higher reading.
If you can share your thoughts, I would appreciate that.