Loose Skin is common with Massive Weight Loss
There are options
Anybody who loses a massive amount of weight is going to have loose skin. Some have less than others, but if you lose a ton of weight it is something you will have to deal with.
There are options to look into, though.
Give your skin time to see how it heals and contracts.
Learn to accept it. Consider it a badge of honor for you massive weight loss effort.
Have angioplasty, the operation that will remove the excess skin.
What about Autophagy?
I am not sure that "average" weight people know this or not, but if you are obese you almost surely know that if you lose a lot of weight, you are almost surely are going to have a lot of loose skin to deal with.
Or are you?
Until recently, I thought for sure that loose skin was a sure outcome of losing a lot of weight.
However, as I started learning more about fasting, and particularly listening to podcasts and videos from Dr. Jason Fung, I started hearing him talk about "autophagy". I really had no idea what autophagy was, but I kept listening. After hearing him on a few different videos, I finally heard Dr. Fung explain what autophagy was.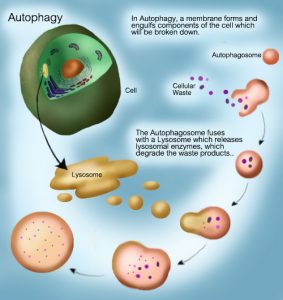 Basically, autophagy is the process where your body starts consuming protein cells in the body. Many people fear that your body consuming protein means that your muscles will waste away. This is not the case, though. Autophagy kicks in when you are doing an extended period of fasting. What I have heard is that after about the 3rd continuous day of fasting, that is when autophagy kicks in.
So, if your body is consuming protein, how can your muscles not waste away? Well, your body is smart enough that the protein that it consumes are damaged protein cells or protein that is no longer needed!
Another fact is that during fasting, your body is producing much higher amounts of Growth Hormone. With all of this growth hormone, your body is producing more muscle rapidly during fasting! So, you don't lose muscle during fasting, you gain greater amounts of muscle!
One of the 2016 Nobel Prizes was given to researchers into autophagy, so it is not some far-out science that nobody believes in. It is becoming a much studied and accepted fact.
What does this have to do with the excess skin?
Good question! Skin is protein. It is the protein that is no longer needed or being used. It is "throw away" skin. To prove that the loose skin is no longer needed, you can have the loose skin surgically removed and there are no bad effects from simply removing the skin.
Through autophagy, your body can eliminate loose skin on its own without the need for surgery! It is true, and Dr. Fung talks about this a lot.
Dr. Fung has treated literally thousands of patients with fasting, helped them lose weight, and helped them reverse diabetes. He says in many of his videos that it is only rarely that his patients need to have loose skin surgically removed. Nearly all of his patients lose all of their loose skin through autophagy!
I don't know why some need surgery to remove some loose skin. My speculation is that people with large amounts of loose skin might need a little extra "help" through surgery to remove all of the loose skin, but I don't know that for sure.
I have loose skin already
Back in 2000, I weighed 430 pounds. Over the years, I have lost a lot of weight – before I ever heard of keto or ever tried fasting. However, once I got down to about 300 pounds or so, my weight kind of stabilized there. I have been unable to lose weight, and keep it off, below that level. Until now. Right now, I am down in the 260 range, and going down nearly every day.
When I went from 430 to 300 or so, I developed a lot of loose skin. Yea, I was still plenty fat at 300, but I also had plenty of skin hanging off of my belly, and on my butt too. Funny thing is, though, in the past month and a half, though, since I have started doing regular fasting, I can see and feel that loose skin going away. I can only attribute it to autophagy! I mean, I have lost about 40 pounds in the past couple months, and if anything I should have more loose skin than I had 2 months ago. However, I have significantly less loose skin than I did back then! It is amazing.
I suspect that I will have loose skin when I do complete my weight loss journey, but I also think I will have significantly less loose skin than I expected. You know what, though? I am holding out hope that fasting might just eliminate all loose skin! Who knows?
Loose Skin Case Example
We have talked about loose skin a lot here on 430 To Fit, and I thought we had talked about it again today, at least a bit.
I came upon a video on YouTube from a fellow who has lost significant weight. He talks about loose skin and shows his loose skin on the video. I find his video very inspiring, though. Have a look:
Now, does he have loose skin? Yep. But, the thing is, I feel is the amount of loose skin is fairly insignificant. It is only a small amount. I mean, before he lowered the camera to show the lower part of his abdomen, it seemed that he did not have any loose skin at all, right?
He says in the video that there is really nothing you can do to avoid the loose skin, except to bulk up your muscle to fill the loose skin. I partially agree with that but also disagree partially.
Disagree
As I have discussed previously, some of the latest research has discovered "Autophagy", which is the process by which your body eliminates unneeded and unhealthy cells that you no longer need. This process occurs while fasting. With Fasting, Dr. Jason Fung says that most of his patients (almost all) do not have loose skin after losing a LOT of weight.
So, because of this, I disagree that there is nothing you can do to avoid loose skin. But, my disagreement with the guy is minor, I mean he has done an amazing job with his body, I can't deny that, and as I said, I find him inspirational.
Agree
I do fully agree, though, when he talks about is when he talks about building muscle to fill that skin. With the minor amount of loose skin that he has, it is undeniable that he has followed his advice. I mean look at his arms and his chest, he has done some amazing muscle building there, especially if you look at his before pictures compared to his current body composition.
Live with it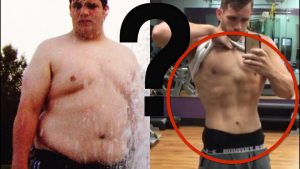 As he points out on his video, some people say they don't want to lose weight because they don't want the loose skin. To me, this is nothing more than a cop out, an excuse. They don't want to lose weight because they are not yet mentally prepared to lose weight. I mean, obesity, especially morbid obesity is a lot worse than having a little loose skin.
Worst case scenario – live with it! But, there are other solutions too in extreme cases.
If you have the amount of loose skin that the video maker has, I see no issues at all with living with that. It is only a minor inconvenience in my view.
Other options
As I mentioned at the beginning of the article, fasting seems to offer at least a partial solution to loose skin, through Autophagy. Try it and see if that does not help eliminate or at least reduce your loose skin!
Another option is to have a tummy tuck! I want to avoid surgery as much as possible. I have had enough of that. But, if I had a huge amount of loose skin, I would certainly look into having it surgically removed. But, if I had something similar to what is seen in the video, or even 2 or 3 times that amount, I would not even do surgery, I can live with it.
As a matter of fact, having some loose skin could almost be considered a "badge of honor" – it shows that you have achieved something great by losing a massive amount of weight!
What I am doing
I already have a significant amount of loose skin and have had it for years. I mean, between 2000 and 2012 or so, I lost about 130 pounds or so, and because of that, I have loose skin.
Of course, I am doing a lot of fasting.
When I started fasting, I did see and continue to see some of that existing loose skin disappearing. Now, in the past 6 months or so, I have lost about 60+ pounds, so you would expect that my loose skin would be increasing, but instead, it has decreased significantly, so I firmly believe in Autophagy.
Training
I've also started doing weight lifting (minor amounts of weight for now) and also resistance training to build muscle. I started this a few weeks ago. I really see big increases in my muscles. I can see it both with my own eyes and also when I use my Tanita body composition monitor, it shows increases in my muscle mass in my body.
My biceps are already larger than I have ever seen them in my life, and I feel good about that. I have always been pretty muscular in my legs, I think due to my legs having to carry around massive amounts of weight because I was so obese.
Keep moving forward
So, I keep on moving forward! My weight is down a lot, right now, I am at about 240 pounds. The weight is coming off rapidly for the past month and a half or so, and I am very happy about that. I hope it continues!
To be honest, loose skin is not something that I worry about or even think about. If it happens, I am OK with that in comparison to weighing 400+ pounds!
My Personal Loose Skin Experience: A traumatic Issue
I recently noticed something
This week I have been explaining some issues that I have been facing recently. Bad issues that temporarily turned me away from blogging here.
A few weeks ago, I was looking in the mirror after taking a shower (yes, I was naked), and I saw something that horrified me. I mean it literally horrified me. It angered me. It made me wonder if I should even continue my weight loss journey.
Loose Skin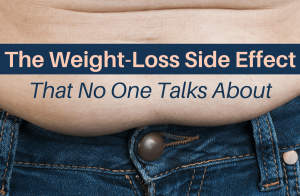 I had a ton of loose skin on my legs (inner thighs). It caused me great anguish when I noticed this.
Hey, I have lost more than 200 pounds, so I should expect to have loose skin, right?
Well, I thought I would not have loose skin.
I closely follow Dr. Jason Fung, and Fung has said on several videos that I have watched that his fasting/weight loss patients rarely have loose skin even after massive weight loss.
The reason that they don't experience loose skin is due to Autophagy. Autophagy is the process where the body consumes cells that are unhealthy or no longer needed.
It has been my hope and my expectation that I would have either no loose skin or a very minimal amount of loose skin after my massive weight loss. My aim is to lose at least 250 pounds from my peak. Right now, I have lost about 215 pounds already, so something like another 35 to go.
Unrealistic Expectations
Perhaps my expectations were unrealistic. I don't blame Dr. Fung or anything, and I believe that the information he gave regarding autophagy eliminating loose skin was accurate. I have indeed seen much of my loose skin is eliminated.
However, it has become apparent to me that I am going to have loose skin. A lot of loose skin.
I have accepted that fact. I am not happy about it, though. In fact, while I have accepted the fact that this will be a problem for me, I am still horrified and embarrassed about it. I still have to put my head around accepting the loose skin in terms of how I think about my body.
Loose Skin Options
Yes, there are options that I have.
Loose Skin Removal Surgery (Abdominoplasty)
Just accepting the loose skin and living with it
I have to decide which one to do.
Surgery is a natural decision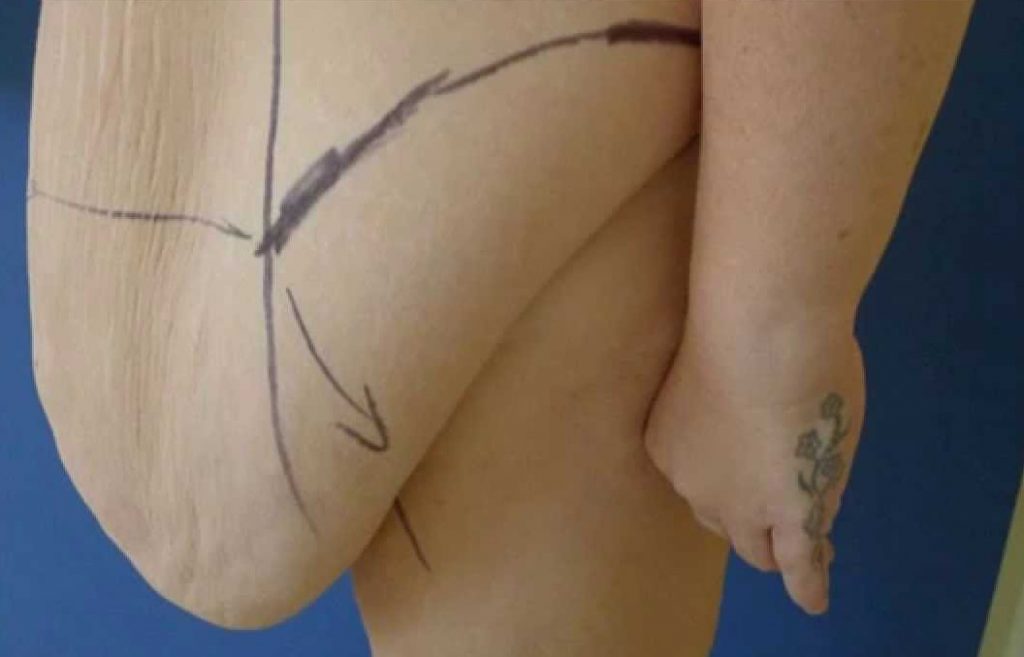 Is it natural to just go for surgery? Well, probably not, at least in my view. I have several reasons why I am leaning against having skin removal surgery.
I have watched videos of this type of surgery being done, and it is very scary. In 2016 I had a quadruple bypass, and I was less scared of that surgery than the loose skin removal after watching videos of both procedures.
I have talked with a doctor friend of mine in the USA. He is an anesthesiologist and has participated in this surgery. He advises me to not do it unless it is absolutely necessary.
In most cases, this is a cosmetic procedure. Do I want to go through the danger, expense, and pain for a cosmetic procedure? I have researched and found that in some cases there are medical reasons for this, but mostly it is only a cosmetic procedure.
After my heart bypass in 2016, I told people that I had learned to "respect the scalpel". It is a serious thing to cut your body open and mess around with things. I prefer to not have surgery and heal things in a natural way.
So, yes, I have reasons for leaning toward avoiding this. But, I also still have some interest, and consider it as a possible option. If I were to find it to be medically necessary then I would most certainly have the surgery.
Own it
I have been watching some YouTube videos of people who have lost massive amounts of weight. The people I have been watching have, or had loose skin.
There are two crowds here. Some had the surgery, and others did not. Right now I am undecided and still in the middle. I don't need to decide right now, because I am not finished with weight loss anyway, but I should be soon.
One YouTube channel that I am following is called ObeseToBeast. This is a young guy, John, in his 20s who has had massive weight loss. He did not lose weight in the way that I am, but, hey, he was successful so thumbs up to him. You gotta do what works for you, and obviously, it worked.
Anyway, he has a fairly large amount of loose skin, but he does not want surgery. He says that he "owns it" and he is actually proud of it.
Proud of it?
Yeah, he is proud of his loose skin. I talked with a friend about loose skin a while back. He advised me not to have surgery unless it was necessary, and he told me those same words – "You should be proud of your loose skin."
How could I be proud of it, and why?
My friend said that the loose skin was a sign of where I had been and the achievement that I accomplished by loosing more than 200 pounds. I should be proud of that, he said.
It will take some thought and eventual acceptance for me to be proud of loose skin, but I do hope that I can make it to that point. I would prefer to avoid the scalpel.
What it comes down to
It all comes down to this…
I have to finish my weight loss journey. Next, I need to give time for my loose skin to recede. After giving it proper time, I need to decide if I am willing to accept that, or if I need to take the steps necessary to remove the loose skin.
I cannot and will not decide that now. That decision needs to be made after I have completed the steps that I outlined above. That is the right time to make a decision.
I discussed this with my wife, she is the most important person on this topic, other than myself. I also talked with friends who are important in my life. Most of the important people that I have discussed this with have all told me to just live with my body as it is and be proud of the weight loss accomplishment.
Of course, if there is a medical reason why I need to have removal, that is different. If it is only for cosmetic reasons, though, I feel current that it is probably not worth the risk.
Inspiration! Is loose skin traumatic?
I suppose that when a person has been morbidly obese (or even beyond that) loose skin is just part of the huge amount of necessary weight loss. If you lose a large amount of weight, in my case I am aiming to lose about 250 lb (I have currently lost 215), you will have to contend with loose skin.
As a matter of fact, from the numbers that I have given above for my current weight loss and the amount I still want to lose, part of that will be loose skin. Maybe I will lose it through surgery, perhaps not. I have not decided. It is too early to decide, I have to see how much there is when I have lost the weight.
A friend sent me a video
A friend of mine, Will, sent me a video that I found encouraging and informative. Give it a watch if you like. If you are squeamish you might not want to watch. Not blood or surgery or anything, but this guy has lost a LOT of weight, and has a ton of loose skin. By the way, this is the first time I have ever embedded a Facebook video and it seems you have to turn on the audio at the bottom of the video, so don't forget to do that!
So, what do you think?
If I were to have the amount of loose skin that this guy ended up with, I would probably have to go for the surgery, it is just overwhelming. It is too early for me to be able to tell how extensive the problem will be.
In my last article, I said that I had even had to consider if, after seeing the development of significant loose skin, I should just regain the weight. But, after reflection, that would be a pretty stupid thing to do. No, I want to finish losing the weight and finish up my journey. When I am at a healthy weight (I am feeling very close) I will make a decision and face the loose skin in whatever way I decide will be best.
Will, you are a good friend, even if we never met! Let's change the "never met" thing someday!
I do think that this amount of loose skin, or anything close, is a traumatic thing. It would be traumatic for me. But, I am working on changing that and accepting it, even being proud of it, as I said in the previous article.
I would like to hear your thoughts about this guy and his situation.