Exciting Health Times
Series of 5 Day Fasts
Yesterday I told you about how my son and I have been doing a series of 5-day fasts, followed by a 4-hour eating window and back into another 5 days of fasting. This follows on my 28 day fast which ended in mid-June. Here are my health goals.
6 Week results
I have been seeing great results. In the past 6 weeks, I have lost more than 30 pounds. Much of that weight loss happened during the 28 day fast between mid-May and mid-June. My weight loss has slowed in the past 2 weeks or so, but I am still happy.
Recent Results with my Health Goals
As I said, my weight loss slowed in the past couple of weeks, but it has picked back up in the past few days, which makes me happy.
I am even happier that even though my weight loss slowed down, it is obvious to me that I am losing a lot of fat. It is very possible to lose fat and even gain weight by putting on muscle weight and also from water retention. Because of that, I am not concerned about the very slow weight loss.
I have noticed that I am losing fat in areas of my body where I was not losing the fat last year. This is very exciting for me.
Tomorrow, I am going to give you a report about some great autophagy benefits that I have been experiencing in the past week or so. Come back for that, I am sure that you will be amazed at some of the things I see happening with my body, I know I am amazed by it!
Plateau in the 220s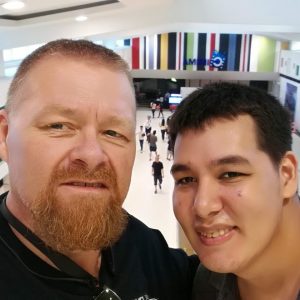 Last year, I got into the 220s with my weight, and then I found it very difficult to break below that level. This year, I am experiencing the same.
I mentioned that my weight loss had slowed considerably, the fact is that it stalled. This is also in the 220s. I stopped fasting for 6 months and put on a bit of weight (mostly water weight), but when I got back into the 220s, my weight loss basically halted. My health goals require that I beat that halt!
In the past half of a week or so, though, I am losing between 1 to 2 pounds each day. By the end of this week, I feel certain I will be below 220 and into the 2teens. 🙂 I am very excited about that. Perhaps my health goals are moving forward now.
In the past when I plateaued and then started losing pounds again, I rapidly lost a fair amount of weight.
My Health Goals
My current goal is to break through 220. When that happens I am going to be so happy.
My longer health goal (but hopefully not too long) is to go below 200 pounds.
My overall health goal (although I might adjust this downward) is to get to 180 pounds. I am 5′ 10″.
At this time, I am already at the lowest weight that I have experienced probably since about Grade 8 or so, maybe even earlier than that.
Interested in Autophagy?
A big part of my health goal is tied to autophagy. I know a lot of people on a journey to lose a lot of weight are very interested in autophagy. It is something that was unknown until recent years, so it is all still experimental. Tomorrow, as I said, check back for a really exciting autophagy experience that I have seen in the past week or two!