These days, I have been doing 6 days of fasting each week. I eat on Saturday and I fast Sunday through Friday. Actually, the way the clock works, that means that I eat my last meal on Saturday evening, so I really start fasting after dinner on Saturday, which means that I can eat on Friday for dinner. That makes it 6 days.
I have done fasts for up to 15 days at a time, so a 6 day fast is not really challenging to me.
One consideration, though, when you are fasting for an extended period is how to break the fast. Believe me, there have been times I have fasted for a number of consecutive days, and then gone right into eating, and that is rough on your stomach. It is very easy to overeat when you do that, even a small amount of food can be difficult for your stomach to process after an extended time of no food.
Take it easy
Really, after fasting for more than a few days, you need to ease into eating. You don't want to sit down and eat a lot of meat or anything like that. You need to eat some light foods leading up to a heavy meal.
For a 6 day fast, which is not very long, you can eat a couple of light snacks, and then eat a nice meal over a course of a half day or so.
Because I have had people ask me how to go about breaking your fast, I thought that today I would explain how I broke my fast last week, on Friday.
My plan was to eat a nice meal at about 6 PM, so I started breaking the fast at noon on Friday. Dr. Fung, the fasting guru that I follow allows his patients to consume bone broth during fasting and does not consider that breaking the fast, and bone broth is part of my strategy for starting to break the fast.
Noon: Bone Broth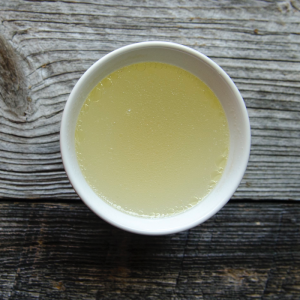 So, at noon or so on Friday, I had some bone broth. Whenever I am fasting, we always make some bone broth and I always have it on hand in case I need it while fasting. Usually, I try not to use any bone broth at least until day 4. Why? I will cover that in another article this week. So, at noon on Friday, I got some of my stored bone broth (made with beef bones this week) and prepared a coffee cup full of bone broth (with lots of fat in it), I microwaved it and consumed it. I did not feel the need to drink more than one coffee cup full of bone broth but had I felt it necessary, I would not have been worried drinking several cups of bone broth over a 2 to 3 hour period. Another good reason to take bone broth is that it is something that you can load up with salt. During fasting, taking salt is important, and especially if you use something like Himalayan Pink Salt. Or you can use high-quality sea salt. Table salt is not recommended, because it is lacking many nutrients. The reason that Himalayan Pink Salt is best is that it contains a lot of electrolytes and also a lot of minerals that your body needs while fasting. Sea Salt does too, but not to the extent of the Himalayan salt.
So, bone broth at noon. Check.
3 PM: Green Salad
At 3 PM, I had a nice green salad with tomatoes. I used an oil based Italian Dressing on it. Getting fats is important as it starts filling up your stomach and also does not provoke an Insulin response. Keeping something in your stomach over these hours gives your stomach a chance to start working on digesting some light foods that are pretty easily digestible, and gets your stomach used to have some food in it again.
For a longer fast, say 10 days or longer, you would want to extend this breaking of the fast to a longer period of time, but for a 6 day fast, I find that a half day to break the fast is adequate for me.
6 PM: Dinner Time
By 6 PM, after a 6 day fast and a half day of light foods, for me, the fast is broken and my stomach is ready for some heavier food.
Earlier in the week, on Monday, I told my daughter what I wanted to eat for my dinner on Friday, so she could prepare. My wife is out of the country for the next few months, so my daughter is taking care of the cooking. I told her I wanted to have some pork roast with nice crispy skin and some green beans for my first meal. She had it all prepared right on time, 6 PM when I was ready to eat
I ate the heavy meal and felt very full, but it did not cause my stomach to react violently since I had prepared it by taking in some light foods during the afternoon.
The time when I can really tell that I did not break the fast well is on the morning following the heavy meal. This time, I woke up on Saturday morning, and I could feel that my stomach still felt full, but it was not painful or anything, so I feel that I broke the fast in a wise and healthy way.
Another thing that Dr. Fung recommends for breaking a fast is eating nuts. I have done that in the past too, but I prefer to go from bone broth to a salad or something else light like that.
So, if you are fasting, find out what kinds of light foods agree with your stomach, and use those foods to break your fast over time. Don't jump right into that pork roast that you have been looking forward to!